The following article is a guest post by Ellie Mirman. Ellie is the VP Marketing at Toast. Check out her blog or follow her on twitter: @ellieeille.
Three months ago, I told my manager I was going to look for a new job. My parents thought I was crazy. But I knew I was lucky to be in a unique scenario. I had been at HubSpot for seven years and had built an amazing network -- one that I knew I would lean on, both internally and externally, as part of my search.
There are all sorts of risks in telling your boss you're ready to go — getting kicked out on the spot, getting cut out of meetings and decisions, losing a valuable potential job reference. But I knew none of those things would happen.
My former employers are more than just that — they are mentors, friends, and colleagues. Aside from being some of the most talented people I know, they are also among the most supportive. But hey, I know they wouldn't just help me because it's the nice thing to do, they would do it because it's the smart thing to do too.
For every HubSpotter who leaves to do amazing things, the HubSpot brand gets better. For every HubSpotter who leaves on good terms, the HubSpot network gets bigger. For every HubSpotter who takes the time to choose big opportunities over small ones, the internal morale gets stronger.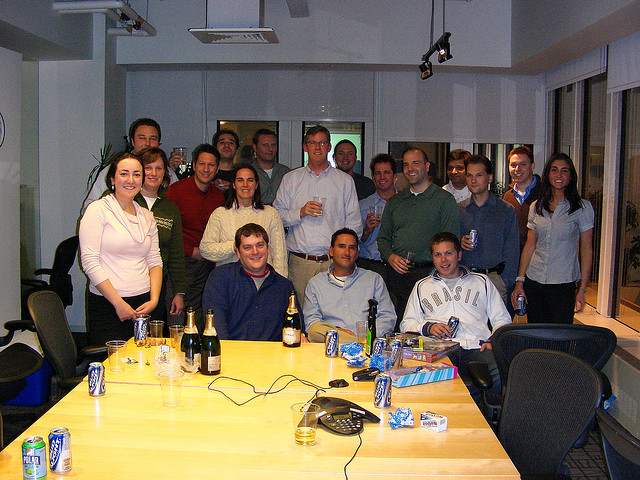 Side note: this wasn't the first time I told my boss I was going to leave. And the last time, the support and subsequent chain of events actually got me to stay for two more years.
Through my search that followed - aided by my bosses' introductions and references - I was constantly reminded by how great it is to have worked at HubSpot. (There's plenty written about how great it is to work at HubSpot, but it's equally amazing to have worked there in the past.) Here's why:
1. Brand - I'll start with the obvious one. HubSpot's built a great brand. A brand of great marketing (really helps with getting a marketing job) and a brand of success (woohoo IPO). Think Google's great to have on your resume? HubSpot's not too shabby either.
2. Ownership - HubSpot gives employees a ton of ownership, whether it's over a single project or a whole area. That gives people the opportunity to have something substantial on their resume. Everything on my resume really was my doing - I wasn't just executing on an order from my boss, and I wasn't always relying on other people to do the execution. I got to do a lot.
3. Data - The HubSpot culture code has "Analytical" front and center, emphasizing how important data is to the decision making and evaluation processes. While that helps with making better decisions, it also helps with showing how HubSpotters can drive results to future employers.
4. New Opportunities - In my seven years at the company, I had many jobs. This kept me engaged and challenged all the time, and helped me learn a variety of skills that I will absolutely use in my future roles. This variety has proven incredibly valuable to me already - in the job meetings I've had so far, I've recalled lessons not just from the early marketing days (I'm going to an early stage startup) but also my days on the product team and my recent role building a team. All of it has helped round me out as a candidate.
5. Training - I have learned so much in the last seven years, some from direct experience, some from taking on internal and external training classes sponsored by the company, and a lot from working with amazingly smart people. Because HubSpotters spend so much time with each other, it's easy to forget how much the average person knows on a topic and how much you've learned in a short period of time. The training resources are incredibly valuable, the knowledge built up is massive, and being around such smart, passionate people pushes you every day.
6. Transparency - Transparency is one of the most discussed topics when talking about HubSpot culture. Aside from the trust and ownership it builds in employees across the company, it also was incredibly interesting to get the exposure into how a business is run. Coming in with little experience myself, this exposure was another form of education for me, from seeing how the engineering team works to seeing how marketing fits into the business.
7. Supportive Network - I knew I'd need to tell my managers that I was looking for a job because I'd want their help. I immediately got dozens of introductions - to venture capitalists, to startup founders, to other people to network with for new opportunities. This helped me find tons of amazing companies and people, and the reference they provided by simply introducing me to their network was better than five LinkedIn recommendations.
8. People, People, People - In so many ways, the amazing benefits I experienced were because of the people themselves. The people are incredibly smart and hard working, passionate about their work and improving every day. This drive is energizing. This attitude is humbling. I have friends and colleagues for life out of my time at HubSpot.
Lastly, a few tips for finding an experience like this: Work with the smartest people you can find. They will challenge you and push you to be better every day. And take advantage of opportunities. They may not come at the right time or in the right package, but opportunities give you incredible learning experiences that push you out of your comfort zone and help you find unexplored paths. I learned that at HubSpot.