The following is a guest post by Diana Urban. Diana is the Head of International Marketing at HubSpot, all-in-one marketing software
International expansion can provide a startup with tremendous growth opportunities. It allows your company to grow faster by casting a wider net, and helps diversify your revenue stream. While global expansion can be an exciting time, it's a significant undertaking and requires some careful planning and making some hard decisions.
Today, HubSpot announced its European Headquarters launch in Dublin, Ireland. As part of the HubSpot International team, I wanted to share some of our learnings with you.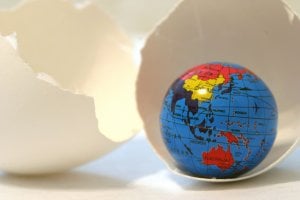 Here are six important things to consider when expanding a startup internationally:
1. Follow your customers and prospects
To determine where your biggest global opportunity exists, take a look at your customer base. If 50% of your International customer base is in Europe and only 8% is in Latin America, it makes a lot of sense to choose Europe as your International HQ. Let your domestic team build your Latin American segment up to a point where it's ready for its own HQ. Make sure you have enough proven revenue in a region before opening up a new branch.
Also take a look at where the majority of your non-domestic prospects, or leads, live. You may notice that you're generating the most leads in a country other than your largest international customer base. If this is the case, take conversion rates and cultural factors into consideration. Even though you're generating a lot of leads in a particular country, can its population afford your products' price point?
Finally, as much as we'd like to "follow the metrics" and make purely data-driven decisions, the choice of location might come down to people. Does one of the founders have a particular affinity or background in a location? Do you already have one of your stars anxious and eager to start an office in a particular country? These "people-based" factors should be considered. Often, the "optimal" decision from a metrics and revenue perspective is not the "best" decision.
2. Set ambitious international goals
Expanding internationally is a big investment, so it's important to set ambitious goals to get the highest ROI possible. For example, plan for 30% of your business' revenue to come from your global HQ within 3-5 years. Defining an international revenue goal for your international office will help you determine things like:
How many sales reps do you need to generate $X in revenue?
How many marketing leads do you need to generate to make those reps successful?
How quickly does your international customer segment need to grow to reach that goal within 3 years?
How many customer service reps will you need in order to serve this segment?
Whatever numbers you set to suit the needs of your own business, make sure you set those goals ahead of time so that you can plan accordingly every step of the way. Setting clear goals ahead of time will help keep the team that opens up the international headquarters accountable for its success.
3. Hire locally but be consistent culturally
A major benefit of opening up an office overseas is being able to recruit local talent, who will be experts in your industry in their culture. No matter how much you've been educated in the nuances of the culture you're entering into, nobody will be better prepared than the people who grew up in the region.
If budget allows, try to bring over your new global employees for a couple weeks of training in your primary office. They will likely be teleconferencing frequently with your primary HQ, so having them join for training in-person helps put a face to the name for all future interactions.
Even though you should plan to hire mainly locals to staff your International Headquarters, be sure to maintain your company culture by sending over a group of expats, even if for a limited time range -- six to 12 months can suffice.
Most importantly, ensure that from Day 1, members of your international team feel like they're part of the company. Give them training. Give them career opportunities. Give them access to information and resources.
4. Network and attend conferences
Although America is becoming very dependent on virtual communication, in-person interaction is highly valued in cultures like Europe and East Asia. Use conferences and networking events to make connections with local industry-leaders in the region you're opening your new office. Plan to stay a couple extra days after the conference for 1:1 meetings with your new connections. Meet with local press in-person to provide interviews on your global expansion plans.
Networking with the locals will help you spread the word not only about your product, but about the career opportunities now available to the local marketplace. You may need to hire aggressively your first couple years in your new office branch, so networking is imperative to drive high-quality candidates to your business.
5. Don't underestimate cultural differences
Just as marketing best practices vary culture-to-culture, so do business practices. For example, in the U.S. it is typical for employees to have 10 non-holiday vacation days. However in Europe, it is customary for employees to have at least 20 non-holiday vacation days -- and be required to take all of them. It's important to take this cultural difference into account when projecting sales quotas and development sprints.
6. Get support from finance, HR, and ops experts
When opening an office abroad, there are a lot of overhead elements to plan for, such as:
Negotiating leases and contracts
Determining company structure
Setting up accounting and tax reporting systems
Supporting expat and local employees' HR needs
Expect that you will need ongoing support from your finance, HR, and operations departments, and plan to hire agencies to help if you don't have the resources in-house. Again, global expansion is a big investment, and it's important to get these basic elements right from the get-go.