The following is a guest post by Kate Endress. Kate is the CEO and cofounder of DITTO.com, a new cutting edge ecommerce site selling a curated collection of designer eyewear including prescription sunglasses. Kate is a graduate of Stanford Business School and was previously a private equity investor before becoming an entrepreneur.
Despite the scary statistic that women lead just 8% of venture-backed companies, I believe that there has never been a better time to be a young, female entrepreneur. There are an increasing number of great female role models who serve as inspirations.
Yahoo's decision to hire Marissa Mayer to run the struggling web giant, knowing full well that she was pregnant, is particularly exciting. I had the privilege to hear Mayer talk at a Stanford Women in Management event two years ago and was inspired even then as she talked honestly and openly about everything from her management style to her strategy for achieving the elusive work/life balance.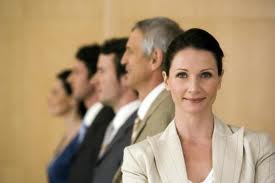 In all of my experiences speaking with women who run companies, the same four pieces of advice arise time and again:
Connections Count: Build Your Network

Early in my career, I received some great advice from a female colleague who told me to find the women I want to emulate and get to know them by asking them out for a cup of coffee. At first, I was a bit nervous to pick up the phone or write the email, because I knew these were busy women. In the past seven years, however, I have reached out at least once a month to female bosses, leaders and entrepreneurs. Only once to date has the recipient not been able to fit me in. I'm often touched at how openly and warmly they share experiences, both professionally and personally. It is through these meetings that I have honed in on my vision for the kind of female leader, mother and wife I hope to someday become.

Don't forget when you are networking – with men or women – to present yourself confidently. That starts with a strong handshake and good eye contact. Speak confidently about your business or your idea. You want advice and mentorship, but don't forget that you also have experience to offer and share.

Let Others Help: Tap The Resources

There are a growing number of resources and organizations dedicated to helping women in technology, many started by female pioneers who had to make their way through unchartered territory just one generation ago. At Stanford, I was a member of the Women in Management club where leaders like Mayer came to speak about their ambitions and tactics for achieving their ideal balance in life. Today, I subscribe to Women 2.0 (http://www.women2.com/), a Kauffman-backed organization that offers content, community and conferences for women founders in tech. It's inspiring to keep tabs on other female entrepreneurs, and I've attended several events in San Francisco where I got to connect with other female founders. Springboard Enterprises (http://www.springboardenterprises.org/) is another useful program that matches female entrepreneurs with coaches, industry contacts and investors. I have coffee every month with different female business owners who openly and warmly share experiences and advice. Check Meetup and local universities to find other groups of like-minded women near you. These are ideal places for networking, finding mentorship, sourcing investors and generating peer support groups.

Don't Forego Funding: VCs Are Becoming More Balanced

The venture community seems to be turning over a new leaf with the recent wave of successful startups with strong female customer bases. Women make up 60% of Zynga's customers, 77% of Groupon's customers, 82% of Pinterest's users and 70% of all ecommerce buyers. I am a huge online shopper myself and I was able to leverage that authenticity to attract venture backing for my ecommerce startup last August. If your target market is women, you can leverage your experiences and build a better story of how your company will reach other females. Depending on your company you may also be eligible for government grants that are given to organizations run by women.

Learn To Lead: We Need More Movers, Shakers and Mentors

Speak with conviction when you are speaking to others and avoid trailing off or framing things like a question. You are an expert in your own area and you should speak about it confidently. Know your weaknesses and build a strong team around you that can support you. Sometimes this means hiring other women – but mostly it means hiring the best person for the job. There were a few female engineers who applied for my company and I was definitely rooting for them, but at the end of the day they weren't all the best candidates. To be a strong leader for my company, I needed to select the best person for the job. Put yourself out there as a mentor for younger women, both in your company and externally. You'll be giving back to the next generation of entrepreneurs while also building your own network.

WE NEED MORE WOMEN ENTREPRENEURS! Please share any other tips or ideas you have in the comments.