The following is a guest post by Jason Evanish. Jason is the founder of GreenhornConnect.com, a hub for resources, events and jobs for Boston entrepreneurs and is presently working on a new startup. You can follow him on Twitter at @Evanish and connect with him elsewhere through About.me.
Visiting The Valley: Why It's A Special Place For Startups
I've spent the past two and a half years in the great startup community of Boston, where the ecosystem has been quietly growing stronger every day. During that time I've had the opportunity to visit a number of other startup ecosystems as well as interact with leaders of other cities. Despite this, I'd never really visited the Valley. With airline tickets cheap between Thanksgiving and Christmas, I decided it was time to finally make a pilgrimage to the center of the startup universe: Silicon Valley.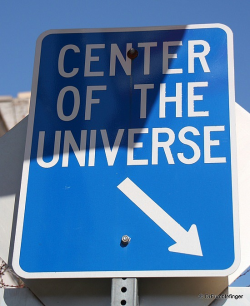 When I set out to visit Silicon Valley, I hoped to get a taste of all the Valley has to offer. I heard that San Francisco, Palo Alto and Mountain View were the key hubs, so I spent a couple days in each area. By doing so, I maximized the breadth of my experience as well as who I could actually meet and what I could see.
The Valley truly is a unique place unlike any other ecosystem I've been to (including the runner-ups, Boston and New York). I wrote elsewhere about some of the
myths and facts of Silicon Valley
, and there I mentioned I'd love to be able to bottle up the Valley's special elements. Below is my attempt at capturing what these elements are based on both my experiences and discussions with native entrepreneurs and investors I met on my trip.
#PayItForward
If there's a single thing that stands out about the Valley, it's the openness of everyone there. Every person I met was excited to meet with me even with the coldest of intros I received. More importantly though, at the end of every meeting
*everyone*
asked me "
How can I help?
"
and
insisted on working with me until we could come up with a way they could help.
Dial O for Optimism
It's easy to dismiss wild, big vision ideas that just don't make sense to you. However, in the Valley, that's not an obstacle. Everyone is encouraged to start a company and no one is doubted because they lack a clear revenue model or doesn't pass someone's analytical test. As one Boston transplant put it,
"the Boston brain in me thought the idea of 'Pandora for Shoes' was dumb, but the more I thought about it, I realized it just might work.
"
Beyond how people view others' ideas, there's an overwhelming sense of hope there; it's difficult to explain, but you get hit by a wave of it when you're there that makes you think anything is possible and that you're surrounded by greatness.
Culture Counts
Yes, there's a talent war in the Valley, but
there's a talent war in every tech hub
. As one person I met put it,
"the Valley is the Major Leagues"
; there's more of everything: more founders, more capital, more startup employees, more competition. When that's the case, the only way to recruit and retain talent is with a great work culture and a fun environment.
I visited the Twilio office while in San Francisco and was floored. They have nailed culture in so many ways it can be its own post, but the key is that I heard that
HR gets over *250* applicants for every job
. The talent war is won and lost inside your office.
Everyone's an Evangelist
Every person I met was telling me I have to move here.
Every. Single. One.
There's a
"join a winning tradition"
kind of attitude that I think is the same thing the Yankees do to recruit free agent baseball players. This attitude comes from a confidence in good things happening here (see 'Optimism', above) and also the welcoming environment; San Francisco was described to me as an incredibly transient population, so everyone is looking to make new friends.
These beliefs feel like a self-fulfilling prophecy; if you think you can, you will, if you think you can't, you won't. Believing you can succeed and so can others breeds optimism and a risk-taking attitude.
Winning with Weather
You can't change the weather of your ecosystem, but it is an advantage of the Valley. On a warm sunny day, you're more likely to go outside and not work from home. You're also able to move around before and after events more freely. Both of these cases leads to more serendipity and may contribute to the optimism (as a counter, see
Seasonal Affectiveness Disorder
).
Signs, Signs, Everywhere a Sign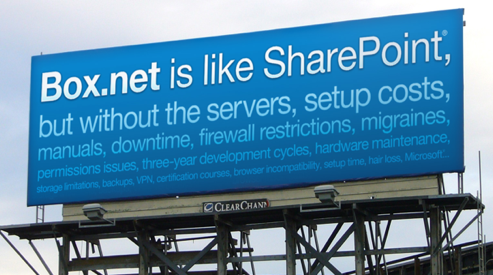 Startup signage is simple, but actually a big deal. There's a serious cool factor to walking or driving by a building and seeing the logo of a company you recognize. It's also fun seeing startups on billboards. While on the 101 (the main highway running through the Valley) I saw signs for Box.net, Salesforce, Huddle, and Zynga. As a startup geek, I find this as cool as others do when they see a celebrity on the street. This omnipresence of startups goes a long way to thinking about a place being the home of great startups and is
a hot topic in other ecosystems like Boston
.
---
Much of what makes the Valley special is hard to describe; you really need to see it for yourself to truly understand. If you're starting a company, already running a company or just interested in startups, I highly encourage you to check it out. Many great entrepreneurs in other ecosystems
visit quarterly
to take advantage of what the Valley has to offer and after visiting, I understand why.
Have you visited the Valley? What do you think makes it such a unique place?
Special thanks to
@Wayne
of
Crashlytics
for help in refining this post