The topic of partnerships comes up relatively frequently in startup circles. The common question entrepreneurs have about partnerships with Some Big Powerful Company (SBPC) can be reduced down to something like this: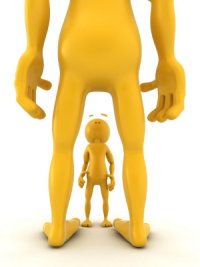 Q: "My startup has the opportunity to explore a partnership with a Big, Powerful company. What should I do?"
(Short) Answer: Don't.
Of course, there are exceptions, but on average, not knowing anything about you, your startup, the big company you are dealing with or the terms of the deal, I think this is good advice almost all of the the time.
Let's dig a bit deeper into some of the analyis that I'd put into making the decision. One warning/disclaimer: I'm not a lawyer and don't play one on TV. This is not legal advice. If you're signing a deal, make sure to get competent counsel.
Thoughts On Partnerships With Some Big Powerful Company
1. Beware The Distraction: Big companies have something you don't. Time. They can commit one or more people to the ongoing task of "exploring partnership opportunities". You probably can't. You have a day job (and probably a night job too). As such, the mere act of continued conversations with a big company to expore a partnership can be a major distraction for a startup. Even if it leads to something (which it usually doesn't), it takes a bunch of time and energy. Beware this distraction risk. You were warned.
2. PR Glow Lasts A Day, Lock-In Lasts Longer: One of the reasons big partnerships are so tempting for a startup is you envision the positive press. It adds legitimacy. It makes your startup feel more "real". You can almost feel the warmth and glow that comes along with signing a partnership with a big, powerful company. But, this glow is short-lived. On the other hand, even after the PR glow fades, the terms of your deal don't. There are a number of tricky deal terms that could be prolematic later.
3. The True Cost of "Right of First Refusal": Let's say Some Big, Powerful Company (SBPC) is interested in partnering with you. One of the likely reasons is that you're doing something innovative, and they "believe in innovation". Heck, they believe in it so much, the're considering investing in you or buying you. But, it's a bit early for that. So, as part of the partnership discussion, they ask for a seemingly innocuous deal term like "right of first refusal" on a sale. Here's how it works. A few years down the road, you find some other company (SOC) that wants to buy you for $50 million. Per the terms of your deal with SBPC, before you can sell to SOC, SBPC would have the right to look at the deal, and the option to buy you for $50 million. Now, at first glance, this doesn't seem like that bad of a thing. What's the downside? Wouldn't you want to bring SBPC into the negotiations and hopefully drive the price even higher? Since they're not getting a discount, and are willing to pay up, what's the problem? The problem is that when you have a "right of first refusal" with SBPC, folks like SOC are less willing to enter into discussions. From a game theoretic perspective, SOC knows that regardless of what they do, SBPC is going to have the opportunity to evaluate the deal and take it away (exercise their right of first refusal). So, SOC thinks "I can't win this game…someone else has the advantage. The deck is stacked against me. I'm not going to play." This is a very specific example, and it's a nuanced issue, but hopefully you get the idea. When you provide special rights to someone, you're reducing the incentive of someone else to get into the game.
4. What Do They Have To Lose? What About You? As you overcome your initial excitement about all the opportunities that a partnership with SBPC would bring, it's extremeley important to try and think through the downside scenario. What's even more important is ensuring you have some way "out" in the event that things don't work out the way everyone had hoped. For example, let's say you sign a distribution partnership with SBPC. They volunteer to use their powerful sales resources to help sell what you have into their market. It could be game-changing! All they ask in return is that you exclusively work with them. So, in this kind of situation, the question to ask yourself is: "What if they don't sell?" Could be intentional, could be uninentional, but the result is the same. Dollars are not coming in your door. And, unless you planned for this contingency, you're sort of "stuck" into an exclusive arrangement where you can't change your strategy to something that will deliver sales. One simple answer might be to trigger any lock-in provisions to actual sales results. So, if things are panning out, great. You hold up your end of the deal. If not, your hands are untied and you can do what you need to do.
5. How Are Incentives Likely To Change? Lets say for a second that the partnership works out and delivers real value beyond your wildest dreams (that's highly unlikely, but it's fun to dream sometimes). What then? How do the incentives of the parties (particularly them) change? If things are going swimmingly well, is SBPC going to be happy? Or, are they going to thinK: "Hey, we're delivering all this value through the partnership, and we've got this big R&D team over here, wouldn't it be in the best interests of our customers if we provide a scalable, integrated, enterprise solution?" This is a long-winded of saying that after you've demonstrated that there's a market for your startup's offering, and they've demonstrated that they can sell it into their customer-base, they may decide that they'd be much better at serviing this market than you are. So, even when things work out well (which once again, is rare), it creates its own set of challenges.
6. Have they succeeded with partnerships before? Not all partnerships are created equal (or is that equally, I can never remember), and there are many different types of partnerships. Technology partnerships. Distribution partnerships. Reseller partnerships. All sorts of stuff. When exploring a partnership with Some Big Powerful Company, one of the key things to figure out is if they've succeeded with prior partnerships they've done. If they haven't done these kinds of things before, and you're one of the first, you're in for some pain. In theory, big companies see the value in injecting some innovation into their market through partnerships with startups. In practice, they usually don't. It's just hard to get them to move. If SBPC has done partnerships before, how did they go? Was there any value delivered to either side other than the press release and announcement?
That's all I have for now. It's a complicated topic and one that (thankfully) I don't have to deal a lot with right now in my current startup. For those of you that made it this far, you might be tempted to write me an email describing your specific situation to get my thoughts. Resist the temptation. Although I'm a startup junkie, looking at individual startups and individual cases just doesn't "scale". Leave a comment and tap the OnStartups community. They're much smarter folks anyways.
Also, if you've had experiences with partnerships with big, powerful companies (negative or positive), please share them. I'm an entrepreneur, just like you, so I have a limited set of data points. Share your wisdom, particularly if it was painful to acquire.