The following is a guest post by Scott Dinsmore. Scott is an entrepreneur, Personal Freedom Coach and value investor. Read more of his articles at Reading For Your Success or grab his free eBook.
The day of the founder doing everything is dead. No one is really a salesperson, marketer, graphic designer, developer and customer service rep. As an entrepreneur you may do all these things, but that doesn't mean that's the smartest way to run your business.
Years ago Michael Gerber coined the the term E-Myth, referring to the entrepreneurial myth of people going into business to do what they love, only to realize that 80% of the business has nothing to do with their passion--but instead with building and running a company.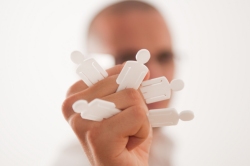 This often results in one of two outcomes: The founder hates his job or the business fails--usually the former follows the latter quite closely.
It shouldn't be this way and it doesn't have to be.
I've started two businesses in the past two years. Outsourcing made this possible. Without it I'd be nowhere. With it, I have two profitable ventures and the time to think and work on the projects that make the biggest difference in each of them.
Outsourcing has become a must. As a founder and entrepreneur, you can't afford not to. Here's why.
1. You need a prototype early. Scratching your idea on a cocktail napkin long after you should be at home is a start, but only a start. You need a prototype to sell your vision- to friends, investors, your future team and charter customers. Depending on your skill-set, you may need a designer, developer, artist or a kick-ass storyteller to get you a presentation-worthy prototype fast and on the cheap. Any of this can and should be outsourced .
2. You need to stay lean. As entrepreneurs we live and die by our burn rate. While you may need help with a website or prototype early on, you cannot hire someone fulltime from the start, especially before you've sorted out how you'll structure pay, stock options and the other headache-creating benefits. It's premature and expensive. You are likely still forming your crystal clear vision. You no doubt need help, but you may need very specialized help. That's what outsourcing is made for. Hire your generalists and outsource your specialists. Only pay for what you need, no matter what stage your business is in.
3. Test your team. Regardless of how much capital you have, no one can afford to hire a dud. Whether you outsource or not, starting out with a trial (via internship, project-based work or some sweet competition) is a must. You may be looking for a team in India or right down the street from you. You can screen by location (and a ton of other criteria) with the resources I mention below. Get clear on what you need and find the people who were made for the role. Let them know a full-time job is on the line. That'll get the healthy competition cooking. Hiring and firing is a pain in the ass (and expensive). Try before you buy, and avoid those duds.
4. Be forced to know what you want. Since outsourcing is project and skill set based, it forces an entrepreneur to do something most never fully do — define their vision and the actual tasks they need done to make it happen. Sure, these will change over time, but nothing is more frustrating than hiring someone (or being hired) when neither side has a clue what the target is. If you don't know the skills you need then how could you ever expect to hire the right person? Founders are notorious for loving the vision but avoiding the details. Force yourself to take your medicine.
5. Live and die by the 80/20 rule-Only do what you're best at. Say you started a business because you know AJAX, MySQL, PHP or some other technologies above most the world's head, and you are going to build a kick-ass web app with it. Then how much sense does it make for you to be burying yourself in PhotoShop trying to create a logo? None! You have super human strengths (we all do) and you know what they are. Things you feel you can do better than most anyone in the world. That is your personal edge. Leverage it as much as possible. This is your 20%. Focus all your attention on the 20% of your workday that truly moves the needle, based on your natural strengths, and outsource the rest. This might mean customer service, design, social media marketing or coding. It's your job to assess yourself and your team. If you aren't lights-out good at it, find someone else to do it. They'll do it better, in less time, and surely for less money.
6. You can't afford not to. Would you believe me if I told you I have a team in India who handles all my SEO/SEM, deep analytics, web research, graphics and coding for between $3-$5/hour? I do. Ravi leads the team. He has for three years. He's loyal, trustworthy, wicked smart and best of all, he works his ass off. These guys have college and advanced degrees and are happy to work for rates often between $5-$20/hour for just about any technical task you could imagine. But the real clincher is how hungry they are. Not only are they qualified to do the work, they will do it in half or a fourth the time. It's pure geo-arbitrage. The pay is great for them and the output is awesome for us. Does it get anymore win/win?
7. You are worth more than you think. If you're telling me you could do the stuff yourself for cheaper, remember the 80/20 rule. Just because you can do it yourself does not mean it makes any sense to do so. First off realize that as a sharp entrepreneur with fire in his belly, your time is worth a lot. I'd say $50/hr at the least. This may help make the decision. And don't forget about the opportunity cost. Your mind and time are your most valuable assets. Spend them wisely.
8. You can outsource anything. Literally anything...Over my past four years, I've outsourced more business jobs than I thought possible and more personal tasks than some would consider appropriate. The only limit is your creativity. Here's a taste of projects I've sent afar so I can focus on my core of writing, coaching, investing and business building:
web research
customer service
accounting
web and blog design
blog and copy writing
blog comment moderation
locate best courses in your area for various subjects
voice transcription
SEO, SEM and Social Media Marketing
personal or administrative tasks, travel plans
locating the perfect gift on Valentine's Day (who said it has to be all business?)
For more ideas check out Elance's 100 Projects You Can Outsource.
9. It feels awesome to know someone's working as you sleep. No joke. Not only is it unbelievably efficient, but it's just plain fun to have all your tasks completed while your off dreaming (since some of the best outsourcers are found in India and other cheap foreign lands), leaving you ready to keep the ball rolling when you wake. And there you have it. The holy grail: You've found a way to work 24/7 without losing your life.
Where to outsource.
The list is endless but the below should be all you need. I've had personal experience with most of these.
You're a Founder, Now Start Thinking like a CEO.
What does a CEO actually do? They don't build products, they build businesses. They are nothing more than master outsourcers. Their expertise is having a vision and creating and motivating the right team of superb skill to make it reality. They don't bury themselves in a manual to learn Photo Shop to design their website. They find a designer so they can keep the train moving forward. There is no pride in doing everything yourself. If you expect to really be competitive, it's impossible. Spend your time on the work you know deep down only you can do. The work that will really change the world. Find someone else to do the rest and success starts to become a lot more realistic.
So, what do you think? Have you tried outsourcing non-critical tasks that are not your superpower? How did it go? Would you do it again? Would love to hear your experiences and lessons learned in the comments.
One More Thing...A FREE Special Event And Gift To The OnStartups Community
====================
OnStartups is helping put on a free "virtual event" in conjunction with the PlusConf crew on December 7. It starts at 12 pm EST, is 100% free, and all you need is a computer with an internet connection. Speakers include some awesome Boston natives such as David Cancel of Performable and Todd Garland of BuySellAds.
OnStartups Presents PlusConf
Where: Anywhere in the world via your browser at http://www.plusconf.com
When: 12/7/2010 12:00 PM EST
More Info:
Register For FREE At http://www.plusconf.com
Learn from the most successful web app founders and CEOs on what makes your startup tick.
Speakers include:

Hiten Shah- CEO of KissMetrics
David Cancel- CEO of Performable
Todd Garland- CEO of BuySellAds
Noah Kagan- Co-Founder of AppSumo
Dan Martell- Co-Founder of FlowTown
Allan Branch- Co-Founder of LessEverything