Confession: For the past several months I've been furiously coding away on a new project as part of HubSpot Labs. It's called GrowthBot. It's a chatbot for marketing and sales people -- and anyone looking to grow a company (like startup folks).
The launch has gone well, and my bot is currently happily handling thousands of messages. Things like "show me companies in california that use HubSpot" and "who are the top influencers about landing pages". GrowthBot can answer most of these, and thousands of others. So, overall, it's been a good day.
But, anytime bots come up in conversation (no pun intended), especially with media folks, people seem to frequently wander into the "are bots going to replace humans?" arena. Some wonder "will this bot cause people to lose their jobs?" I can't speak for all bots, but for GrowthBot, the short answer is no.
I'll explain with a visual: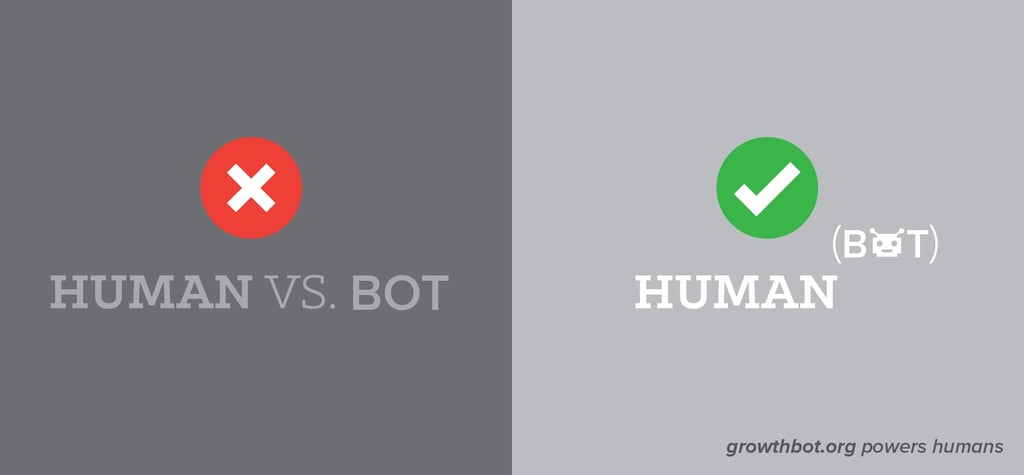 The way I like to think about it is not, Human vs. Bot, but Human + Bot. The bot amplifies what you can do. The bot is an exponent.
It's not smart enough to write a blog post -- but it can tell you what posts about a particular topic people are sharing. You just ask: "what are the top posts this week on product marketing?"
It's not smart enough to automatically run a campaign to drive traffic to your website -- but it can answer questions about how your website traffic is doing. "How was organic traffic to the site last month?" And the bot also tells you how that compares to the prior month. You can compare results year-over-year (Yes, June is a slow month, but is this June slower than usual?)
It's not savvy enough to close a deal for you, but it can help you find potential customers by asking: "show me law firms in Boston that use Google Apps". (Assuming you're trying to sell SaaS software to law firms and are looking to find firms that are modern enough to use Google Apps).
So, you're still doing the creative, meaningful work. GrowthBot is just making you better, stronger, faster. It gives you access to information you may not have had access to before. It can surface insights that you may not have come up with on your own.
By the way, it's completely free and easy-peasy to try out. Nothing to download. Nothing to install. No forms to fill out. No credit card required.
Just head over to http://growthbot.org and say hello. I'm not saying it is guaranteed to get you a promotion, but you never know. It may just put that small spring in your step and data in your head.