The following is a guest post from Brian Halligan, CEO of HubSpot.
When we were first starting HubSpot, we identified the perfect candidate for an outside board member: Gail Goodman, CEO of Constant Contact. We got a meeting with her through a colleague of mine, and that meeting only reinforced our opinion. At the end of the meeting, I asked her if shed join our board and she politely declined. Crap!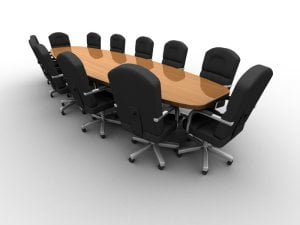 About a year later, we raised our Series A round of venture capital from General Catalyst. It turns out that Gail knew and trusted one of the partners at General Catalyst who set up another meeting with her at GC's offices. During that meeting, we talked about the progress we made, answered a bunch of her questions, and at the end of the meeting, I closed so hard that even Alec Baldwin (GlenGarry Glen Ross) would have been proud. To our surprise, she agreed!
It turns out a perfect outside board member is even more valuable than we thought. Here are the big categories of help she gave us in addition to a ton of little things along the way:
1. Pushed back on our VCs when she thought they were getting too far deep into the weeds.
2. Taught us the economics of SaaS.
3. Approximately quarterly 1-on-1s with me where she'd give me management advice and gentle nudges when she thought I was wrong-headed about something.
4. Monster credibility when it came to fundraising. I never heard anyone say it explicitly, but I know that her being on the HubSpot board sent a positive signal to the folks at Sequoia, Salesforce.com (Marc Benioff specifically asked about her during our pitch to him), Matrix Partners, etc.
The only bad news in this story is that over time, HubSpot's agenda and Constant Contact's agenda have overlapped a bit. HubSpot started as a TOFU (top of the funnel) company and we have recently expanded into the MOFU (middle of the funnel) business where Constant Contact has its core business in email marketing. At the same time, Constant Contact is adding social media features. It is a minor overlap, but rather than have it be awkward at all, we decided to part ways very amicably.
We are going to replace Gail with Michael Simon, the CEO of LogMeIn. I have been following LogMeIn for several years now and admired Michaels work from afar. He was kind enough to agree to a meeting where I told him the HubSpot story and asked for his help. After a couple of months of dancing back and forth, he agreed to join. I'm not good at much, but I think I'm going to end up two for two on the outside perfect board member thing.
Having a perfect outside board member is worth spending real cycles on. My advice would be to make yourself a list of the perfect candidates, network to them, tell the story, and ask for the order. If you get the Heisman, then circle back down the road.
Recruiting a perfect board member is one of those cases where you have to sell. The perfect person is ridiculously busy and has a million reasons to say "no". Think a bit about why the perfect person might want to join your mission, try to find out which reason will resonate, and pound on it during your meeting. Some non-obvious reasons the perfect person might want to join your board:
1. They are working for a bigger company and they think joining a startup board will energize them and give them new ideas (i.e. learn about continuous deployment, learn about the learn startup movement, learn about inbound marketing, learn about mobile apps, etc.)
2. They are interested in working with another of your existing board members (i.e. one of the VCs) for professional reasons that might pay off for them much later.
3. They are interested in working with another board member for personal reasons, like they used to work together and it will be fun.
4. They just like you or your co-founder and think youll be fun to work with.
5. Your stock options [I suspect this is the lowest on the list as oftentimes the perfect outside board member is all set in this department]
6. They are on the other coast, but have a relative in your city that they'd like an excuse to visit more often.
Try to anticipate some of the perfect board members objections that will come up in your meeting and proactively handle them:
Objection 1: I'm on the other coast and I don't want to fly to your coast for board meetings.
Answer 1: If you join, we could have two board meetings a year on your coast, you can come to two on our coast, and you can do two via telephone. Thats 2 trips per year!
Objection 2: Im way too busy.
Answer 2: You can skip one board meeting a year without worry or care. I promise I wont bother you with more than 1 email between board meetings.
One of the many nice things about being venture-funded is that it sends a positive signal to the prospective candidate that the company has something going for it. In addition, the VCs are good sources of introductions. My advice would be to ask your investor to introduce you to people on your list and, if possible, try to penetrate the entire partnership's rolodex on this effort versus just your partner's network. Another tip Id give you is if you are at any stage of discussions with VCs about a prospective investment, ask them to introduce you to a perfect outside board member -- this is an easy way for them to prove their worth to you and is very valuable.
How about you? Have you got a perfect board member that you want to crow about a bit? Any tips on recruiting that perfect board member?