If you read this blog, there's a pretty good chance you're somehow involved in the business of software. By that, I mean you are trying to (gasp!) make money in the software business. If that's the case, I can't think of any better place to be this September than the Business of Software Conference being held in Boston on September 3-4.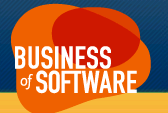 Some Reasons Why You Should Be At Business Of Software 2008
1. Joel Spolsky will be there. Well, he's not just going to be there, he's one of the organizers along with Neil Davidson, the CEO of Red Gate Software.

2. Seth Godin will be there. Seth is a brilliant marketer. Doesn't get more brilliant. And, if you're in the business of software, you really, really need to understand marketing. If you're not reading Seth's blog, you should be.
3. Jessica Livingston will be there. Jessica is the author of "Founders At Work", which was an exceptionally fun and insightful read. Parts of it gave me goose-bumps (yes, I'm that strange). If you're both a software person and a startup person, you need to read her book.
4. Jason Fried of 37signals fame will be there. Jason's on my list of "most pragmatic entrepreneurs ever". He was kind enough to let me interview him for my graduate paper at MIT back when I was a student. All around swell guy. Oh, and you haven't already, you should absolutely read "Getting Real". Now it's even free.
5. Richard Stallman will be there. Yes, that Richard Stallman. This should be one interesting discussion.
6. Eric Sink will be there. Eric is (in my mind), the software guy's software guy. Immensely articulate and thoughtful. Eric's aptly named "Eric Sink On The Business Of Software" is one of the books on my startup reading list.
7. Mike Milinkovich will be there. He's the executive director of the Eclipse foundation.
8. Steve Johnson of Pragmatic Marketing will be there. Steve was a big hit at last year's conference. If you want to understand why, just watch the video from last year.
9. Tom Jennings and Paul Kenny will be there. Tom's a venture capitalist and Paul's all about sales. I'm guessing a few of you are looking for capital or looking for customers.
10. People like you will be there. People that are in the business of software.
Note, the above is not a complete list of speakers.
Oh, and by the way, I've been selected so speak at this year's conference as well -- but please don't hold that against them.
All in all, Business of Software 2008 promises to be a great event. Something I'd travel to come see, if I didn't live in Boston -- which I do.
By the way, if you're going to go, you can save $300 by registering before July 22nd.
Hope to see you there.