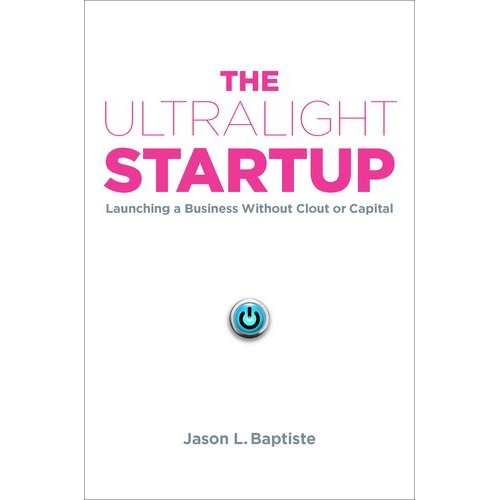 If you've wondered why I haven't been blogging so much, it's because I have been been
writing a full length book for Portfolio called the Ultralight Startup
, from the same folks that brought you "Art of the Start" and all of Seth Godin's books. It's basically the book I wish I had when I started out as an entrepreneur five years ago and knew no one or nothing. While writing the book, I realized that it's a process very similar to creating a company and have even applied a lot of the lessons learned back to Onswipe. Both writing a book and building a web app are the same exact thing - creation.
Build Something You Wish Existed
I wrote the book as a way to give the world something I wish existed five years ago when I first got started as an entrepreneur. The book I wanted to read wasn't there, so like any entrepreneur, I set out to create exactly that. I looked at the book very much like a time capsule. When creating a product on the web, you want to create something that not only other people want, but you yourself want to see in the world. When you have a desire to see something become a reality, that will push you through the long nights.
It Will Take Constant Iteration
The total length of my book is close to 55,000 words, but after multiple revisions, I cranked out closer to 80,000 words. The same will happen with what you're coding. Code will get refactored and made better over time. Writing my book took just as much time to perfect the writing as it did to write the first iteration of the book. You need to set specific deadlines as an entrepreneur, but you should give yourself enough breathing room to iterate on the product before shipping it to the world. As a writer, I had a very tight deadline of less than 10 months to take the book from first word to being due to the publisher. This is the equivalent of having code locked for a product release. From there, the time and process of the publishing industry to shop takes a fair amount more time than launching a product on the web. When I finally turned the book in I felt completely satisfied and that I had created the best product possible after constant iteration. Since then I've strived to feel the same with each and every product release at Onswipe.
Getting Signed is a Lot Like Fundraising
I'm very fortunate that I was approached to write a book. Getting signed as an author is a lot like getting funded as an entrepreneur doing a consumer web startup - very very hard. The key is to start out getting traction on a smaller level. I was signed as an author due to my blogging on my personal site and here at Onstartups. Onswipe received funding due to starting on a smaller level as a simple side project that eventually gained project. Never start out looking for money or seeming desperate. If you create something on a smaller scale that people want, the money will come to you to turn that into something bigger.
Launching Is Just Another Step
Everyone thinks launching your product is the final step, when it is really just yet another step in the grand scheme of things. My book launches on April 12, but there is going to be constant promotion beyond that. Once your product is out there in the wild you have to think of how to constantly bring it to another level. Launching your product is the lift off, but you have to have gas to continue on through the trip. You will also want to start promoting the launch of your product well before it's out into the public. My publisher suggested waiting only a month before the launch to start promoting, whereas with a web app, you should be soliciting press/feedback/interest as soon as possible.
Managing Writing Is Just Like Managing Projects
Products get built in multiple steps and should have specs, a timeline, and more to it. If you don't organize how you're going to build the product scope creep kicks in and you never ship anything. I applied a lot of the basic project management skills from Onswipe to writing the book to get it "shipped" to the publisher on time. To get the book complete, I took the following steps: 1 - Outlined the main chapters and topics, which were the equivalent of writing a technical spec 2 - Put a date and time schedule to each chapter that I wanted to write, which is the equivalent of putting timelines to a technical spec 3 - Completed each part of the book piece by piece depending on what I was inspired by. 4 - Redid many chapter multiple times, which is like refactoring code 5 - Sent the book to my editor, who made suggested changes and found problems. This was a lot like bug fixing. 6 - The book finally went for cover design review and asked for blurbs (including one from Dharmesh!). This is a lot like getting marketing, ui, and ux ready.
Going from Blogging to Writing a Book is a Lot Like Going from a Side Project to Full Time
Blogging is tons of fun and I love it to death. That's why I'm writing this post. I've never made a single dime from blogging, but I've learned a lot and met some pretty damn cool people. The same is true with side projects. They are usually done for fun and some of the time result in profit, but not often. It's when that kernel of an idea from the side project can become something bigger that things start to matter. The feeling of going from blogging to writing a book is a lot like how it felt to go from Onswipe being a side project to a funded 25 person company. There was a lot more polish, work put into it, and also a larger audience to reach.
Nail Down Your Elevator Pitch
Explaining your book is a lot like explaining your product. You should be able to do it in one quick main sentence and then a few supporting sentences. At Onswipe, we have a very simple elevator pitch of "We make it insanely easy for a publisher of any size to make their content look great on tablet web browsers in under 3 minutes." With my book, I did the same of "The book I wish I had 5 years ago when I started as an entrepreneur and knew nothing or no one." The supporting information was:
"The Ultralight Startup is a comprehensive, easy-to-follow guide that will prepare any entrepreneur for success. Learn how to raise money, launch a product, get covered on TechCrunch, and the secrets behind companies like Onswipe, Foursquare, Twitter, Dropbox, Mint, and more."
Many books are published every month, just like there are many web apps launched every month. You have to come up with a very simple way to explain what your product does and why it matters to people.
Authors Help Each Other Like Startups Help Each Other
The most amazing thing I've found throughout the process is that writing a book is a lot like a startup when it comes to the community. When I was first negotiating my book deal as a naive blogger, Josh Kaufman introduced me to his agent. Dharmesh and authors like Seth Godin kindly wrote me very nice blurbs. Brad Feld wrote a very early review. Just like startups are a pay it forward industry, so is the publishing industry. We are creators in both industries and we have all been just starting out. My hope is that as an author, I can now pay it forward with advice to other future authors, just like I have been able to with other entrepreneurs.
Not everyone who blogs, wants to become an author and dealing with the publishing world can be a pretty cumbersome process. My hope is that some of the insights shown here bring clarity to you, the entrepreneur, who will be spared the process of writing a full length book :).
If you're so inclined to read The Ultralight Startup, you can check it out here.