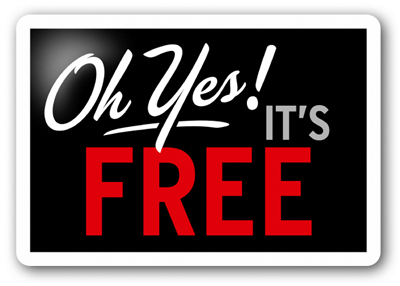 First off, Dharmesh and I would like to announce a contest for the official OnStartups T-Shirt. We're looking to choose a design put together by one of our readers as the official t-shirt for OnStartups. The design should be unique, include a slogan related to entrepreneurs, and something stylish. We don't want "Yet Another Startup Shirt". We want something fashionable and truly remarkable. Make something you would wear yourself. What do you get if we pick your design? Our gratitude, $100 in Amazon credit, a couple of the t-shirts, and a tweet/link from us to make you (more) famous.
To enter: Post your entries to our Facebook page- http://www.facebook.com/OnStartups . This way the contest is open to comments. We will reach out to you via FB message.
To go along with the contest, I thought I would put together an article that outlined some of the dos and donts of Startup schwag. Many see the schwag given out at conferences as a waste of money or hard to measure on an ROI scale. For a good number of companies, this is true, but it's also something that can be highly valuable if done right.
Make A T-Shirt A "Normal" Can Relate To
My favorite T-Shirt to this day is my bright yellow
Wistia
(hi Chris!) t-shirt. It's not because the t-shirt stands out and makes sure I don't get hit by cars on Comm Ave. while going for a run, but because it hit a chord with everyone working at a local pizza shop here in Boston. The shirt uses the slogan: "Share Video Like A Boss". The owner of the shop thought it was genius and something that automatically made sense. They understood Wistia's value prop in an easy and simple way. I didn't have to pitch them on what Wistia did, and they easily understood what they did: awesome video sharing for your business. Don't just slap a logo on a shirt or some other piece of schwag. Have a good catchphrase and a call to action that anyone on the street can understand.
Don't Spray And Pray
There are certain companies that just put their schwag anywhere and everywhere. They are at consumer web conferences, ad conferences, enterprise conferences, and anywhere that startups might be lurking. They have a huge promotional budget in the millions of dollars, but odds are you don't. Even if you do, don't do what "spray and pray" corp does by giving out schwag at every single conference. Instead, find out where your audience and customers really are. Find the nitty-gritty meetups that they are at and sponsor it + deliver schwag there. If you're someone like GitHub, you're not sponsoring every developer and consumer web conference under the sun, but you are sponsoring intimate personal meetups consisting of 20-30 people at a time. Be personal and go after your audience. Don't worry about having a huge in-depth reach. 30 well placed pieces of schwag will go further than 3,000 poorly pieces of swag drowning in a sea of other swag.
Produce Novelty
T-Shirts are an obvious form of schwag, but there are tons of other types of schwag that are highly useful or just plain ole' novel. My friend Pete taught me this when he interned at Half.com back in the day. He saw what they would do with things like Urinal cakes (schwag that you obviously couldn't take home, yet novel). His belief was using slap bracelets would be a great novel item that would ring home with 80's babies that used to have them as kids. I used to write this concept off as a dumb idea, until I saw a startup do this a year ago. It was a hit and spreading everywhere. The fun and novel nature of the schwag made it a huge hit amongst the crowd.
Produce Utility
An alternative to to producing novelty comes in the form of producing utility. When the iPhone first came out a few startups would use screen cleaning cloths as schwag to give out at parties. It is still one of the most useful pieces of schwag that I have ever received. If you give a person schwag that has utility to them, it will stay with them for a while. They won't see it as just another t-shirt, but as something that they don't want to let go of. Making things that people don't want to let go of is a powerful force.
Make Sure It Is Something You Would Wear
I have a fascination with comic book character themed t-shirts. Though I'm essentially promoting a commercial brand, I love doing it, since I love the characters involved. I feel startups are the same way. I would love to wear a t-shirt that has the look and feel of a designer comic t-shirt I might find from somewhere like ECKO or French Connection. Sadly, I see too many t-shirts that are oversized, poorly designed, and just wear out over time. Instead, look at your t-shirt as one of 3 items you could only wear for the next 3 months to social events.
If your company's t-shirt isn't something you would wear, then don't make it
. If you won't wear it, others certainly will not wear it.
It Should Not Be Easy To Lose
Ahh schwag pens. Maybe it's just me, but they ALWAYS get lost and get no visibility. They just sit in a sea of real estate agent pens. The same can be said for stickers, keychains, and a whole host of other little trinkets that always get lost. T-Shirts can also have the same happen to them, if they are the traditional black coloring we are all used to. I own about 30 black t-shirts for one reason or another. Wistia's yellow t-shirt? Aside from my Boston College t-shirts, it is the only other yellow t-shirt I have. It stands out and I wear it more often. Make sure your swag has a long lifetime value. (Yes, I really just gave swag an LTV metric.)
Have A Social Aspect To It
My favorite aspect to the slap bracelet concept is the social nature that they provide. Sure you may slap the bracelet onto your wrist, but it often ends up with you sharing the swag with someone else by slapping it on their wrist. How can you make your swag something people not only talk about, but literally share with their friends? Why not make the swag come in pairs with a directive to share it with others. Many breath-mint packages come with two openings: one for you and one for sharing. Try to do the same for your company's schwag.
Its Quality Speaks About Your Company
At one conference, a company was giving out USB flashdrives. This would have actually been really useful to me. Here was the problem: It only had 64 mb of storage. This was in early 2009. I understand giving out 2 GB flash drives could be costly, but this was just a non-starter. It would have been better for the company to not do it at all and give away something else. This stuck with me, as it impacted the way I looked at the company. It looked as if they didn't really care about the small details and how people might perceive them in a way that matters. Everything you do speaks about how your company perceives style, design, and quality, including the schwag that it gives out.
Find A Way To Make It Measurable
I almost ended the post by saying something that included schwag isn't measurable, but then I caught myself biting my tongue. It may be hard to measure, but it shouldn't be completely impossible. Have a unique tracking url that can only be seen by those exposed to the schwag in one fashion or another. You can also attach other calls to action if its a physical product other than a t-shirt that gives you a free trial of the product.
The People Delivering The Schwag Have To Be Equally As Great
People will stop to take a t-shirt or another piece of schwag from you. When they do so, you might get a quick ten seconds to grab their attention about what your company does. If the person behind the schwag doesn't know much about your company or how to sell it, that entire opportunity is lost. They will also take your schwag as well, but odds are they won't have the context as to what your company does. Even worse is the following conversation that will come up between the person now wearing the schwag and a person that asks them what your company does. Since your own representative couldn't explain what your company does, how will someone else? You have also killed referral explanations of what your company does. Like anything in a Startup, it's all about great people. Even the person handing out the schwag should be someone great. Odds are if you're a small team, it is you. What is some of the best schwag you've received at a conference or elsewhere for a company? The best response in the comments will get a free OnStartups T-Shirt. Hint: Visuals of the actual swag will rank higher :).
You Should Follow me on Twitter: http://www.twitter.com/jasonlbaptiste, Friend me on Facebook: http://www.facebook.com/jasonlbaptiste, Email Me: jbaptiste@onstartups.com, or even call: 201.305.0552