Today's big news from TechCrunch is is that Google is in the final stages of acquiring digg for about $200 million. Makes sense to me. Particularly given some of Google's recent experiments having social voting in their search results pages.
I'd been thinking about startup acquisitions earlier this year (and started keeping a side list of deals I thought should get done). Just as an amusing exercise.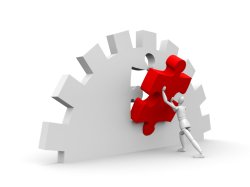 The 5 Tech Deals That Should Happen
Disclaimer: When I say should happen, it's not a prediction, just something that I think makes sense.
1. Facebook should acquire Twitter: Let's face it, back in the early days, some of us wondered how Twitter was different from an enhanced version of Facebook status updates. I think the two products would work well together, and Facebook has the resources to help Twitter get over some of the current platform stability issues.
2. Google should acquire FriendFeed: This would be a bit similar to the FeedBurner acquisition (although FriendFeed is nowhere near as far along). Google gets a good product that can further it's social networking stuff.
3. Microsoft should acquire Xobni: This one's already been talked about before, and almost happened. It should happen. Xobini's got a great team, Microsoft needs some new energy in the Outlook group.
4. Intuit should acquire Freshbooks: You may not have heard of Freshbooks, but it's a cool company with a cool product for invoicing. Intuit needs a much better web offering, and the Freshbook folks have great design and are great entrepreneurs.
5. Ning should acquire Mixx: Ning is growing, but needs more "best of breed" style social networking apps. Mixx is brilliantly executed and more and more people want/need some type of focused social news product as part of a larger social network or community.
So, what do you think? What's your vote for the acquisitions in the remainder of 2008 that should happen? Leave 'em and debate 'em in the comments.